EOBI Card is a certificate for EOBI-insured employees. It is just like a National Identity Card that shows the name of the cardholder and address as well. In the case of EOBI, this card shows the EOBI number, name, father/husband name, CNIC number, date of registration, date of birth, and address of the holder. With this card, an insured employee can check his pension details and be assured that he is a qualified person for the EOBI pension program. This is a guide about how to check EOBI card status online.
There are many retired employees who do not have this card but they can still get their pension. However, if a person has this card, he can avail some advantages of the Employees Old-Age Benefits Institution.
How to Check EOBI Card Status Online?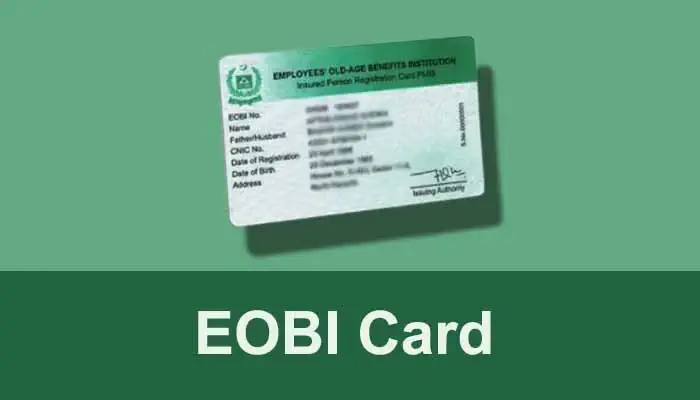 Employers can check their EOBI card status online through their CNIC.
Visit the official website of the EOBI facilitation system.
Go to EOBI individual information.
Click to login with your CNIC number and login to your account.
Check the EOBI card status there.
Eligibility for EOBI Card
For the eligibility of EOBI card, you need to fulfill the following terms:
The age of an employee in Male should be 60 and for females, it is 55 years.
The organizations must be registered with EOBI.
Employees must work for 15 years before applying for an EOBI pension card.
A CNIC card and EOBI number are necessary to get a pension.
A certificate of service from the organization where you worked or working to prove your working experience of 15 years. This experience can be summed up from all places where you worked. It is not necessary that you should have 15 years of service in one working place, you can count all of your service periods. Even if you have gaps between your working service, you can still count them.
If an EOBI pensioner dies then his pension will transfer to his widows, parents, or children.
For children, this pension will continue until they reach 18 years of age. However, if there is a child who is disabled then the pension will continue for a lifetime. If a pensioner had two wives, then both of his widows would get half of his pension. The amount of pension that will transfer to the pensioner's relative will be 100%.
Benefits of EOBI Card
There are numerous benefits of an EOBI card. We will discuss all the benefits in detail.
Education Grants
EOBI is offering education grants to its registered employees. That means, if a child of a pensioner gets admission to school or university, his tuition fee will be paid by the EOBI program.
Not only the tuition fee, but also all other expenses like stationery, uniforms, books, and transportation fares. Not only that, but this program is also offering scholarships. Here is the detail of the stipend amount for each class student.
| Classes | Stipend Amount |
| --- | --- |
| Class 1-5 | Rs. 500 |
| Class 6-8 | Rs.1000 |
| Class 9-10 | Rs. 1200 |
If a student passes the matric level, then this program further provides tech diplomas for both male and female students. Along with these diploma courses it also offers Rs. 3000 per month as a stipend amount.
Dowry/Marriage Grants
With this program, employees can get a grant of Rs. 100,000 for the marriage of their children. This amount will be paid directly to the employee. Even if an employee wants to get married, he/she can also get this grant for their own marriage.
Required Documents
Factory registration certificate under the factories act, 1934
Copy of the CNIC card of the worker
Copy of factory card
Copy of CNIC of bride or groom
Copy of social security card or EOBI card
Copy of appointment letter
Copy of Nikah Nama attested by secretary union council
An affidavit on stamp paper of Rs. 50 attested by the oath commissioner as per the specimen given in the application form
How to Submit Documents?
You need to visit your nearest district labor officer's office and submit your documents to the district labor officer. He will forward your requested application to the worker welfare board. After the proper investigation of your application, the worker welfare board will forward your application to the worker welfare fund and they will approve your application and grant you an allowance.
Death Grants
If a pensioner dies then his parents, widow, and children can get a death grant with the help of this system. However, there is no limitation to getting this grant. There is no service limit or pay limit to file for this grant.
However, the dead employee should be registered with the EOBI pension system in order to get his death grant. Moreover, the relative of a deceased pensioner needs to apply for a death grant within six months of his death. Also, the amount of the death grant is set to Rs. 500,000.
Note: The death grant for mine workers is different. If a mine worker dies and even if he was not registered with the EOBI pension program their relative can still get a death grant.
F.A.Q
What is an EOBI card?
EOBI is a pension program that offers pensions to old-age retired employees.
How can I check my EOBI card online?
Go to the official website of EOBI at www.eobi.gov.pk.
Find the option "Individual Information" and click on it.
Now click on Insured Person/Employee Details.
Here you can enter your EOBI number and login into your portal.
You can check your details and EOBI card online there.
How can I get an EOBI card?
Any EOBI-insured employee can get this card. You need to apply it online through your login portal.
Is EOBI deducted from salary?
Yes, EOBI deducts 1% of an employee's salary as a pension. However, employers also contribute 5% of their employee's salaries.
Conclusion
So these are the benefits of an EOBI card. If you are an EOBI pensioner then you can apply for these grants. Also, if you are a relative of a deceased pensioner then you can also file an application to receive these grants. If you have any questions, you can ask us through email and comment.