EOBI login is a way to use your online account and check your EOBI pension. You need to first register with EOBi in order to log in and check your pension details. However, if you haven't registered with this pension program, then we also have a guide that you can check. Also, you can login with your CNIC number.
You can use this website to learn about how to sign in to your online account and check your pension payment. All pension balances will be inside your account. So it is necessary to login and check your details. You can also use a bank Alfalah debit card to check your balance and the arrival of your pension.
What is EOBI?
EOBI is a short name for Employees Old Age Benefits Institution. It is a welfare program for old age employees and retired employees. Old retired employees can get a minimum pension amount of Rs. 8500 every month. So this pension program is very beneficial for old age people who can not do any job anymore. You can read more about EOBI on our website.
EOBI Login with User ID and Password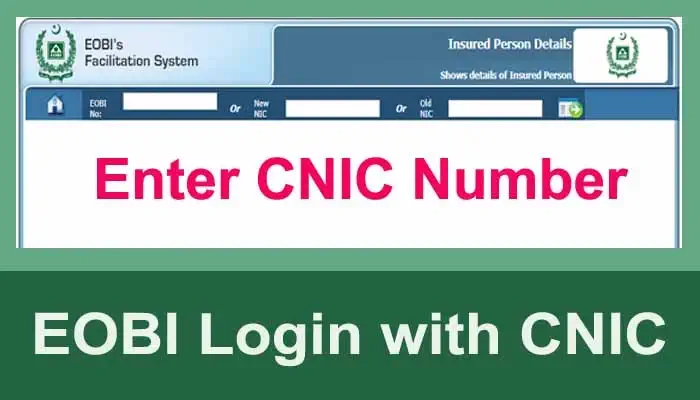 If you have registration with EOBI and you are an insured person of Employees Old Age Benefits Institution then you can do an EOBI login with a user ID and password.
All you need to do is visit eobi.gov.pk and then click on the EOBI facilitation system.
Create a user profile with the help of your details.
You will get your ID and password via email.
Now you can login with your user ID and password.
EOBI Login for Employer
If you are an employer and you want to check the balance and pension details of your employees then you can do an EOBI login as well. You need to visit the official website of EOBI and then provide your user ID and password to login. Once you logged in, you can check all the details of your employees related to their EOBI pensions.
How to do EOBI Login with CNIC?
Do you want to login to your EOBI account and check the pension details? If yes, then this guide is for you. Formally, the login process is pretty simple and to be honest, it is simpler to log in to your Facebook account.
Before you go for the sign-in process, we want you to make sure of some things prepared.
Before Login, make sure that you have:
Internet Connection
A Device like a Smartphone/a Laptop/PC
Your EOBI Number
EOBI Card
You Should be an EOBI Registered Employee
Your CNIC Card/Number
So once you fulfill the above-mentioned requirements, it's finally time to check your pension details.
Login with EOBI Card
The easiest approach to signing in to an online allowance account is through the EOBI card. If you are an EOBI registered employee, you must have an EOBI card.
So follow the method and check your pension.
First of all, you need to visit the governmental website (www. eobi.gov.pk)
On the first page of the site, you will see a box on the right side with the writing "Individual Information"
Click on the box
Now you will redirect to another page where you can log in
But before login, you need to provide your login credentials
Enter your EOBI number
Now enter your new or old NIC number
And now click on the green arrow to sign in
So the next step is to check your pension details. Also, you can use your card to login and then check all the details that you want to know.
EOBI Online Check
With EOBI online check, you can now get all the details in no time. You do not need to go anywhere when you need to know about your pension details. If you are looking for when your pension will be delivered then you can do that as well. There are many things that you can do with this online pension slip portal.
What is EOBI Card Check Karne Ka Tarika?
EOBI card check karne ka tarika is very simple. The method to check your EOBI card is very easy. Even if you do not know much about this online portal, you can still get all the details. Just login to your account and your card information will be displayed there.
With the help of the government website, you can check the status of your card. Here is how:
Login to your EOBI account with your user ID and password.
Now you will see the My Account option on the life side.
Below this option, you will also get "Check Status".
Click on it and all your account information will be displayed there.
How to Login with a Bank Alfalah Account?
Bank Al Falah offers its employees the best facilities. It is offering all the benefits of EOBI to its employees. If you are a Bank Al Falah employee then you can open an EOBI pension account. On that account, you can check your pension and other details. Your pension will be deposited directly into your bank account.
You can withdraw with the help of a Bank Alfalah debit card through any ATM. With the help of an employee identification number, you can login to the Bank Alfalah pension account and check your balance.
Contact EOBI Support
If you have any questions or you need support with the login process, then you can contact EOBI support easily. You can call the Free Helpline 08000 EOBI (3624). The office hours are between 8.00 AM to 4.00 PM Monday to Friday. Feel free to call the support team and discuss any of your problems. If you are not receiving your pensions then you can file a complaint as well.