If you want to read all EOBI pension rules in Urdu then you are welcome here. We know that the majority of EOBI pensioners are old age people and they find it a bit difficult to read EOBI pension requirement rules in English. So that is the reason we bring out all the rules in the Urdu language. If you do not understand the English language very much then these translated rules will help you to read everything easily.
Read EOBI Pension Rules in the Urdu Language
Below is the photo of the EOBI pension rules in Urdu. You can read all the rules in your mother tongue. This is our native language so you can now understand in a better sense what are the rules for getting insured with the EOBI program.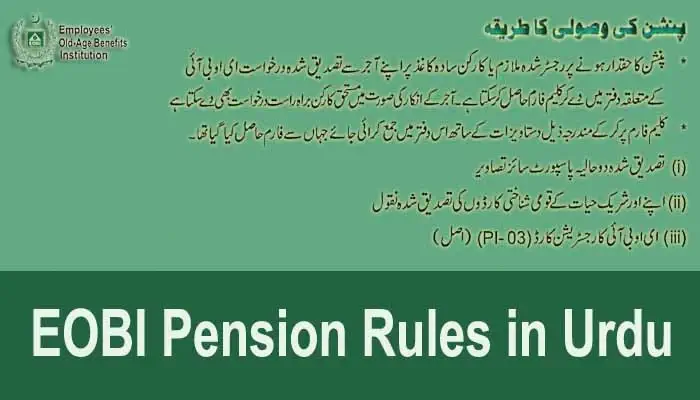 F.A.Q
How many years are required for an EOBI pension?
If you want to get eligible for an EOBI pension then you must have 15 years of job experience. After 15 years, you can apply for the EOBI pension program.
How is the EOBI pension calculated?
The calculation for the EOBI pension is as per the following rules:
The employee will pay 1% of his salary amount for the contribution of pension that he will get after retirement.
The employer will also pay an additional 5% of the employee's salary amount from their own packet as a contribution to a pension that the employee will get after retirement.
What is the maximum EOBI pension in Pakistan?
The maximum EOBI pension depends on the average salary of the employee and the working period of the employee. So you can not take an exact figure.
When did the EOBI pension start?
EOBI pension will start after the retirement of the employee. It will also start if an employee dies during his working period. Then the pension will transfer to kids, widows, or old age parents.
What is the normal pension age?
The normal pension age in Pakistan is 60 years.