EOBI facilitation system is a great system for users who want to use the system easily. There is no need to provide any additional documents and papers to use this system. Everything is now online and just a click away from your PC or laptop. Here you can utilize the program with just an ID and password to add the details and view the other important things online. In this article, we will guide you on how to make an account on a facilitation system and how to use it easily. So be with us to the end and make your first EOBI program account.
What is the EOBI Facilitation System?
If you are the stakeholder of EOBI then this is a good thing for you. Now you can check all the details on EOBI using your own account. You can register an account easily and check the required information just from your doorstep.
How to Use the EOBI Facilitation System? Step by Step Guide
Here is the complete and step by step guide about how to use the facilitation system of EOBI: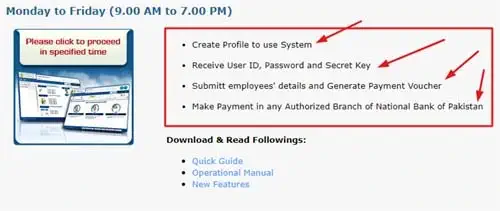 Go to Eobi.gov.pk.
Login to your account.
Click on EOBI Facilitation system.
Register a profile to use the system.
Get your personal ID and password through your email.
Now you can login and use the system to submit the details of your employees along with the generation of your contribution voucher.
You can pay the voucher amount through the National Bank of Pakistan.
What is the Current Contribution Rate of EOBI 2023?
The current 2023 rate of pension is Rs. 8500. It is the minimum amount and the contribution rate of EOB is as follows:
1% of the wage of an employee from an employee.
5% of the wage of the employee from the employer.
Rest of the amount is paid by the government of Pakistan.