For the information of all the EOBI-insured persons, the pensions are increased from Rs. 6500/- to Rs. 8500/- on 1st January 2020. However, since 2020, the pensions are still stable and there is no increase. If we will get any EOBI pension increase notification in 2023, we will immediately update it here. So if you want to get in touch with the latest notifications from EOBI, then you need to visit our website regularly.
When will the EOBI Pension Increase?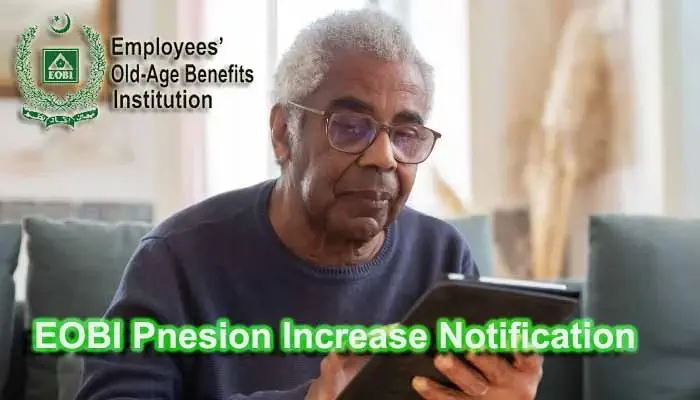 So are you waiting for the EOBI pension increase? Well, there is some news about the increase in pensions but we are not sure when pensions will increase. However, the EOBI has announced in recent years that they will increase the pension from Rs. 8500 to Rs. 15000.
But there is no implementation so far. All the employees are requesting EOBI authorities to increase the pension payments but there is no listening from them. Also, you can read EOBI pension rules in Urdu if you want to know more about it in the Urdu language.
You should note that the number of pensions that EOBI pays is paid with the help of employees and employers. The government of Pakistan is not offering any kind of financial support for this program. EOBI gets the support of both employees and employers to pay these pensions. All employees need to pay 1% of their salary as a contribution to pensions. Also, employers are also entitled to pay 5% of their employee's salary as a pension contribution.
So this is how EOBI collects the funds to offer the pension program to retired employees. And there is no contribution from the Government of Pakistan to this welfare program.
Has EOBI Pension Increased?
Yes, the EOBI pension has increased in 2020. The previous pension salary was Rs. 6500 which was increased to Rs. 8500 on 1st January 2020. After proper appeals from employees, EOBI has finally increased the employee's pensions. Due to a bad political environment, the economy of Pakistan is going down day by day. The value of the Pakistani rupee has drastically decreased in recent months. So the survival of a lower or middle class is now very difficult in Pakistan.
What is the New Rate of EOBI?
The new rate of EOBI is Rs. 8500 per month. Now every EOBI registered employee will get Rs. 8500 instead of Rs.6500. The new rate is implemented already and employees are already getting the new rates. However, due to the high rate of inflation, Rs. 8500 is nothing. A lower-class family can not survive with this little amount.
The authorities should increase the pension to Rs. 15000 at least. We need to become a strong nation and how can we become strong with a weak economy? So this is something that we personally want. We want EOBI to increase pensions now.
Should EOBI Pension Be 10,000 to 15,000?
Do you think that EOBI pensions should be between 10,000 to 15,000? If yes then you need to tell us in the comment section. We want to know how much you want to see your pensions in this range. If you are willing that your pension should be at least 10,000 rupees per month then you need to talk about it. Fill the comment box with your votes and we will see what our employees want.